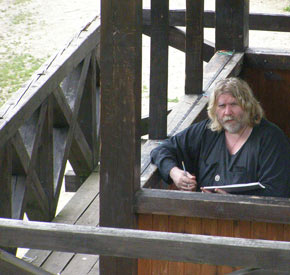 Bernth Uhno
Born in Valdemarsvik Östergötland Sweden
The roll of art is to elevate the spectator and to broaden his or her  conciousness. The spectator should feel that there is deeper reality beyond the ordinary and come to understanding of him or herself and his or her historical background.
My source of inspiration often comes from travels to places with strong cultural and historical significance and inner journeys.
Educations:
Bild& Form-linjen Lunnrvads Folkhögskola  1973 – 1975
Grundskolan för konstnärlig Utbildning  Stockholm 1975-1976
The Rudolf Steiner Seminary  Järna  1980 – 1984
Member of
KRO ( The Swedish Artist Federation) since 1978
Member of OMKULTUR since 2012
Member of ÖSTGÖTAKONSTNÄRERNA since 2013
Exhibitions of Bernth Uhno
Different places in Valdemarsviks kommun since 1970
Spring-salones on the Museums in Norrköping och Linköping since 1972
Liljevachs vårsalong 1976
Fröbelgalleriet Norrköping 1977
SAABs konstförening Linköping 1978
Galleri K Stockholm 1978
Kulbackens museum Västervik 1978
Lancastergate Gallery London 1978
Galleri 1 Uppsala 1980
Kanalmagasinet Söderköping 1981
Vardar Vida Bromma 1985-1988
Folkets Hus Kallhäll 1991
Galleri i Ådal Järna 1992
Ljusgården Linköping 1993,1994
Galleri Vattumannen 1996
Galleri Isis Kammare Stockholm 1998
Galleri Gaia 1999
Galleri Heda  1999
The Watchung Art Center New York 2000
Öppna gallerier Bromma 2001
Rosenlunds Konsthall Mörarp Skåne 2010
Konstnärernas Höstsalong, Kistamässan 2010
Galleri Magnifiket, Linköping 2012
Omkultur, Konstrunda 2012
Dubergska Gården Motala 2012
Group-Exhibitions
Liljevalchs konsthall Stockholm 1983
Umeå konsthall 1983
Kulturhuset Blå Stället, Angered, Göteborg 1984
Konsthallen Lausanne , Schweiz 1989
Läckö Slott Västergötland 1990
Ekebyhovs slott Ekerö 1991
Orangeriet, Luxemburgträdgården, Paris 1992
Vadstena Konstgalleri . Vadstena 2011, 2013
Omkultur, Galleri Magnifiket, Linköping 2012
Omkultur, Konstrunda 2013
Mjölby Konstrunda 2013
Galleri Li , Skärkind 2013
Omkultur Konstrunda 2014
Represented at
Valdemarsviks kulturnämnd
Östergötlands landsting
Norrköpings lasarett
Linköpings museum
Postmuseum Stockholm
Folkets Hus-föreningarnas Riksorganisation
Bygdegårdens Riksförbund